When planning a special event you'll need to consider restrooms for those attending. If your event doesn't have nearby bathrooms then renting portable bathrooms will be necessary. Here are some tips to keep people from discussing the bathroom facilities, and instead, fully engaged and enjoying themselves.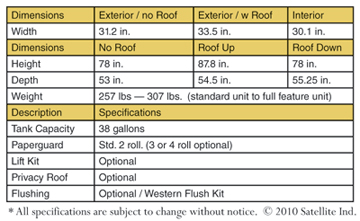 Number of Portable Toilets 
Perhaps the most common mistake made with outdoor toilet rentals is not providing enough toilets for participants. We've all been to an event where there aren't enough porta potties and you know it isn't pleasant to have to wait endlessly in a line. Having enough portable bathroom rentals can have a huge impact on how participants view the success of your event. The general rule of thumb is to have 1 porta potty per 100 people. However, this number will need to be adjusted according to additional factors. Consider the following:
How long is your event? If it is more than four hours, more attendees will find their way to the toilet. If the event is several days you'll have to ensure the units don't fill up to their capacity before your special occasion is over.
What is the distribution of men and women for your event? If there are significantly more women, it's suggested you include more portable bathrooms in your rental request.
You'll also want to increase the number of outdoor toilets you rent if you serve alcohol at your event. A few beers are all it takes to fill up the bladder.
Does your event have a specific time where all participants need to be in one place? A common example is a race. If there is a start time and a lot of anxious participants with pre-race nerves, then you'll have to prepare for the rush of by having additional porta potty units.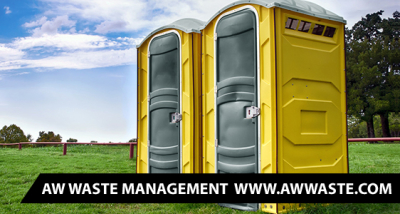 Location 
The number of outdoor toilet rentals at an event isn't the only consideration to make as an event planner. Take a look at the layout of your event. Is there a significant amount of fencing or temporary buildings? Are the outdoor toilets going to be visible from one end of your event to the other? Will a person be capable of easily navigating to the designated bathroom area?  If not, consider having the portable bathrooms in a few areas. Another thing to look for where people will be stationed. If you have a population, such as volunteers, that are required to stay in a specific area you'll want to provide them with a porta potty too.
Bathrooms, especially outdoor toilets, do not smell like perfume. As such, participants will not want to congregate near them. Yes, the bathrooms should be close enough to access, but make sure they stay on the perimeter of the event. This is especially true when there is food booths or an eating area nearby. You don't want the fried food smell to be overwhelmed by the smell of portable bathrooms.
Take another look at the location of your event. Outdoor toilet rentals cannot be on a slope. You'll have to find a spot that is flat. This is easy if you are on a paved surface such as a flat parking lot, but the ground surface can be more of a concern when you are placing them on softer surfaces. Even on what seems like flat terrain, there can be uneven patches that will make it difficult for someone to use the port potty without stumbling about inside.
Someone from the rental company will need to drop off each unit for you, so as you pick the location, try to look for landmarks that they can use if you won't be onsite when they deliver the units.
Sanitation Supplies
Then, of course, there are the details inside each porta potty. Is there enough toilet paper? Do you want hand sanitizer in each unit or are you planning to have a handwashing station outside? This is especially important if people will be around food.
Success!
While there are a lot of details to planning outdoor toilet rentals for a special event, the process can be simple. Don't be afraid to ask the company you rent from for their advice. Or, ask another event planner about the number of portable toilets they used in their event.
The post Common Mistakes Made In Porta Potty Planning appeared first on AW Sites.