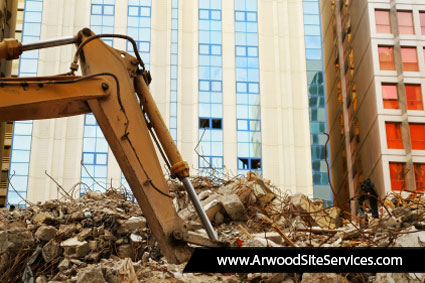 Demolition Services by
Arwood Site Services of Brunswick
4200 Southern Road Brunswick, GA 31520
Responsible, Quality Clean Up
We offer total demolition services packages for North Florida and Southeast Georgia. Demolition projects are done professionally with recycling and conservation in mind. Our simple and quality junk removal services are available right where you are. You provide us with the project and we deliver pre-screened, licensed, insured, and reputable local demolition contractors.
We offer safe and cost effective services for the commercial, industrial, and residential arenas using state of the art recycling services for a wide array of materials: concrete, brick, wood and more.
Let us help with timely debris removal from storms and disasters. Quick clean up can help the rebuilding process get started quicker.
Demolition and disposal of concrete or asphalt does not have to be difficult. Often these material can be recycled from driveways, sidewalks, etc. and put to good use.
Let a professional guide you through the best way to remove or cover a pool no longer in use. We specialize in demolition and removal of any style of swimming pool.
Everything from house demolition to smaller structural wrecking and removal like sheds, garages, decks, etc. can be taken care of. Hire a professional who knows what permits and requirements are in place to free your space up for something new.
Revitalizing city streets starts with the proper, clean and safe demolition of old commercial buildings. We are skilled at the removal of larger structures such as shopping strips or office buildings.
It is often necessary to demolish industrial parks, factory warehouses, sewer plants, electrical fields, etc. These highly specialized projects require an expert demolition company.
Renovation projects such as kitchens, bathrooms, walls, flooring, etc. are easier with qualified demolition contractors.
Demolition Experts in

Brunswick, GA