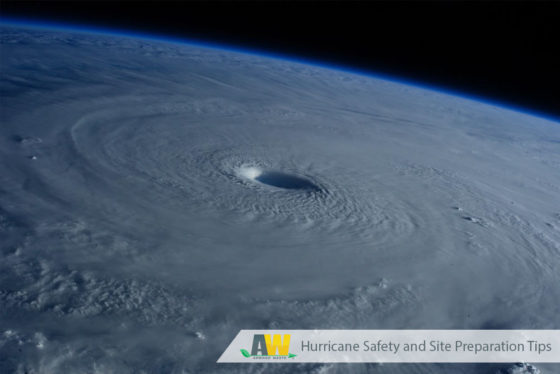 After a brutal 2017 hurricane season, we are counting our lucky stars the Atlantic has been relatively quiet this year. While it's tempting to breathe a sigh or relief, we are not in the clear quite yet. In fact, we are just now reaching the peak of the 2018 hurricane season.
While there is nothing we can do to influence the path of these storms, we can do our best to prepare for them. And the best time to prepare is before a storm is even on the radar. Here are a few tips to help you get prepared at home and on the job site.
Secure Materials and Equipment
Hurricanes can easily damage any materials left outside. Loose materials pose the added risk of becoming airborne as projectiles that can break windows and damage property. Minimize your risks and liability and prevent injuries by keeping your site clear of debris and securing materials when a storm is on the way.
Dumpsters
Make sure your construction and roll off dumpsters are tarped and all construction debris is secured so no debris becomes wind borne. Loose materials can become dangerous projectiles, resulting in significant property damage. We offer tarp services to help you secure your dumpsters in preparation for storms.
Portable Toilets and Sanitation Units
Ensure all portable toilets are properly secured and weighted down. You can weight the toilet by carefully placing sandbags inside the unit or you can secure it to another structure, such as a dumpster. If possible, transport portable toilets and other all other sanitation units to a garage to protect them from the storm. If you need assistance securing your portable toilets, we offer services to help secure them to your dumpster. Remember, if your portable toilet or sanitation unit is damaged as a result of the storm, you could be liable for damages unless you purchased a Damage Waiver.
Loose Materials
All tools, equipment, materials and debris should be moved indoors. Arwood Waste will continue to offer cleanup and removal services as long as possible to assist you with storm preparations. Anything that cannot be removed or safely stored indoors should be tied down.
Prepare at Home
In addition to protecting your job site and employees, we want to make sure you are prepared at home. Whether you are planning to leave town to get out of the path of the storm or hunker down in place, here are a few steps you can take to protect your family and your home.
Stock Up
Once a storm is on the radar, grocery store shelves empty quickly. Stock up on bottled water and non-perishable food now. In addition to food and water, make sure you have a radio to track the storm and battery powered flashlights. Be sure to grab plenty of batteries for radios and other electronics you will want on hand as you weather the storm. This way, when a storm is coming, you can focus on securing your home instead of running around town hunting for emergency supplies.
You can download the FEMA Emergency Checklist and the Red Cross Hurricane Safety Checklist to help get you started. The Red Cross also offers resources to identify what you should do before, during and after a hurricane or typhoon to ensure you and your family are safe.
If you haven't already prepared a kit of emergency medical supplies, now is the time to start. If you do have a kit, verify that supplies are not expired and any electronics are in working order and fully charged. Your first aid kit should be stocked with supplies to treat any minor injuries that might occur. If you don't have one, you can order a first aid kit at Medical Waste 360. For additional information on hurricane kits and supplies, the American Red Cross offers a Hurricane Safety Checklist.
Make a Plan
Don't wait until the storm is on your doorstep to decide where you'll go. Roads will become congested and hotels will fill up quickly. If you plan to stay with friends or family, verify that they will be able to accommodate you, your family and any pets. Listen to local officials and evacuate or go to a shelter if evacuation orders are issued for your area. Make sure you know the locations of your local shelters and identify those that can accommodate any special needs, such as pet friendly shelters. You can check online for the location of local shelters and visit the American Red Cross to find open shelters.
When thinking about hurricane prep, donating blood might not come to mind, but it should. After major weather events and disasters, there is almost always a shortage of blood supply. Getting to a donation center after the storm can be difficult, so before the storm hits, make an appointment to donate. If you live in a state not directly affected by storms, your donation could still help. In emergencies, such as hurricane disaster recovery, your local blood bank could end up sending blood to help affected areas.
Storm Cleanup
After the storm has passed, recovery work begins. While we hope any damage is minimal, storm recovery and cleanup services may be necessary to get your home and work site back to normal.
At Arwood Waste, we are prepared to mobilize immediately after the storm has passed. Our demolition and emergency clean up services will be available to help assess and recover in the aftermath of the storm. You can schedule an appointment anytime using our online services or by calling 1-855-647-8469.
Air Scrubbers
After storm waters recede, there is still much work to be done. Even with repairs, moisture and unpleasant odors can linger. HEPA air scrubbers and dry out fans help clear the air to get your structures livable as soon as possible. Reserve your clean up equipment online or call 1-888-413-5105.
Stay Safe
Be sure to stay informed and plan accordingly. You can get the latest updates and public advisories at any time from the National Hurricane Center.
Arwood Waste hopes everyone stays safe throughout the 2018 Hurricane Season.
The post Hurricane Safety and Site Preparation Tips from Arwood Waste appeared first on 123 Dumpster Rental.
The post Hurricane Safety and Site Preparation Tips from Arwood Waste appeared first on AW Sites.